Being one of the 85 scholarship players on the University of Alabama football team's roster puts you in pretty select company. If you are recruited by the Crimson Tide, you are considered one of the best in the country at your position. The team that pulls in top recruiting classes year over year doesn't exactly recruit just anyone.
But there exists an even more exclusive fraternity among those 85 players, a select group of guys who grew up knowing the game in a different way than the rest of their teammates. For seven Alabama players, football is a part of their family.
To Ben Davis, Trevon Diggs, Marlon Humphrey, Christian Miller, Jamey Mosley, Irv Smith Jr. and Dallas Warmack, football has been a profession for someone in their nuclear family, either fathers or brothers. It's kind of a family business.
For Humphrey, a redshirt sophomore standout starting cornerback, he never really realized who his father was to a lot of people. Bobby Humphrey was an All-American running back at Alabama in the 1980s, and he went on to play for the Denver Broncos, which he led in rushing and receiving in Super Bowl XXIV.
Humphrey and his wife Barbara, who ran track in college, never expected any of their sons to play football. Even though the game opened several doors for him personally, Bobby wanted his children to pursue their own interests.
Bobby never tried to relive his glory days after his kids came along. He just wanted to be their father.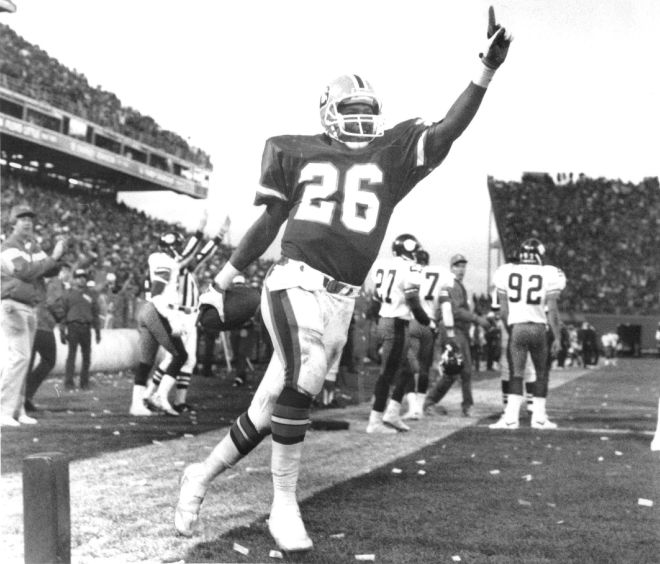 "He's very humble," Marlon Humphrey said. "I remember one thing that stuck out to me about how humble he was, was when I went to an Under Armour combine and I was talking to Deion Sanders and my dad was there talking with us and Deion said, 'Anything he tells you, you should probably listen to because his ability back in his time was unmatched.'
"That's when I really realized that for him to be so good he never really talked about it. He never really showed me clips. That taught me to kind of always stay humble and let other people do the talking for you."
That's a lesson that was instilled in the Humphrey household. Let the results tell your story and let other people talk about how good you are.
"That's what I've always taught them, and my wife is a big component in that, too," Bobby Humphrey said. "She believes in letting the track speak for you. When you get on the track, it will say everything."
Marlon grew up with his older brother Maudrecas in the spotlight, the star athlete of the siblings. In a sense it kept some pressure off him.
That's a trait all seven Alabama players with NFL-alumni family members in the household share. When you're the offspring or sibling of a nuclear relative that plays football professionally, nearly everyone expects you to be great too.
"(Having a dad in the NFL) also comes with the negative connotation as well," Christian Miller's father Corey Miller said.
Miller played for the New York Giants and Minnesota Vikings in the 1990s. Christian grew up around the game. When he began playing at the age of 5, people expected him to be the best.
"It can be a negative influence because of the pressure," Corey Miller said. "As he grew up everybody knew that he was Corey Miller's son. So the expectations sometimes were just through the roof. Sometimes that can really push a kid away from loving a sport.
"Thankfully he handled it well. I listened and didn't put any undue pressure on him to play it or be great. He grew up with the athleticism and the ability, and I wanted to motivate and encourage him in any way that I could, and it's worked out well at this point."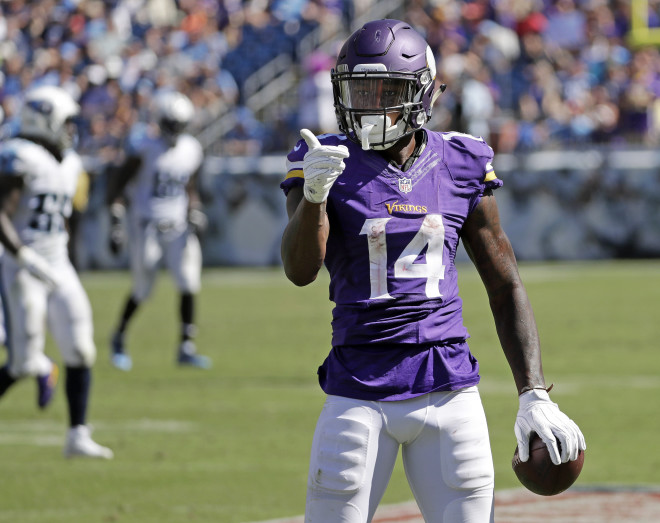 Stefon Diggs is a wide receiver for the Minnesota Vikings. In many ways, he's a father figure for his younger brother, Trevon Diggs, a two-way player for Alabama in his true freshman season. When he was 14, Stefon took on the role as man of the house when their father, Aron Diggs, passed away from congestive heart failure. Trevon was 10 at the time.
Since arriving on campus, Trevon has turned heads with his athletic ability. Recruited as a wide receiver, he moved to the secondary during fall camp because the team had more depth at the receiver position. He's also seen action as a punt and kick returner. This week, with ArDarius Stewart limited with an injury, Diggs might see action on offense, too.
"A young guy that we've been trying to play both ways who's got a lot of promise is Trevon Diggs, who because of our lack of depth in the secondary, maybe trying to be playing him both ways," UA coach Nick Saban said. "I think we'll probably try to emphasize more offense with him this week."
Trevon Diggs has one catch for 14 yards on the season, seven kick returns for 166 yards and two punt returns for 15 yards.
Two other players with brothers in the NFL are Jamey Mosley and Dallas Warmack. Their brothers, C.J. Mosley and Chance Warmack, respectively, starred for Saban's Alabama championship teams in 2011 and 2012.
Ben Davis grew up in Gordo, a short ride west on Highway 82. His dad Wayne Davis is the Crimson Tide's all-time leading tackler.
Ben Davis was recruited by nearly every school in the country. But growing up the son of an Alabama legend has a pull that's tough to ignore. Marlon Humphrey made sure Davis knew about it during his recruitment.
"That's one of the things I told him when I told him to come to Alabama," Humphrey said. "Back when he was being recruited I said, 'You know man, it means a lot for 'Bama fans to see another person in the same family come. You'll always have lifelong fans if you come and play here. It just means something special. When you get here you'll realize what I mean.'"
Davis hasn't played in the first three games, but his potential is obvious.
Irv Smith Jr., also hasn't played this season, but the athletic tight end also has a ton of potential.
His father, Irv Smith Sr., played for the New Orleans Saints, San Francisco 49ers and Cleveland Browns from 1993-1999.
Christian Miller, an outside linebacker, has been on campus for three years. He knew coming in that it would take time to add the kind of weight and strength he needed to make a contribution in the SEC.
The 6-foot-4, 230-pounder reported to Tuscaloosa in 2014 just more than 200 pounds. Now he can bench press 400 pounds. Alabama's reputation of developing players and strength and conditioning coach Scott Cochran's ability to train student-athletes is what sold Corey Miller on sending his son to another SEC school. Corey Miller starred at South Carolina.
"That's one of the reasons I wanted him to go to Alabama," Corey Miller said. "I knew their history. I knew how they develop players. I knew the information that he would get as a player. I knew what Cochran was all about and the strength program.
"And I know that they would develop him into the ultimate student-athlete. I smile. I'm the proudest parent. I'm always showing pictures and bragging. And he's not even a quarter there, he's still growing and has a long way to go."
Corey Miller never pressured Christian into playing football. Even when his son was playing soccer and toying around with skateboarding, he let his son pursue his interests.
"I had to be really careful," Corey Miller said. "Being with the Giants and being around a lot of other pro athletes who had kids, sometimes you can hear stories of the pressure. Because, as a man, you want your son to be like dad. Sometimes that can be overwhelming to a kid. I had to learn that because it can turn them away.
"The people putting the pressure, 'Oh, you're so-and-so's son, well I know you're going to be great.' Or even in little league, 'Oh you're Corey's son? You've got to be good.' That comes with a lot of stress and anxiety, so I would always talk to him about it. I wanted him to play deep down, what dad wouldn't, but I had to be really careful about how much I pushed it on him.
"I wanted him to love it for himself."
Marlon Humphrey ran track and played football in high school. He first starting gaining attention his sophomore season at Hoover. He was a five-star recruit and knew he'd have a hard time saying no to Alabama.
Marlon didn't fully appreciate who his dad really was until he got to Alabama himself.
"I fully figured out who my dad was and what he was to so many people when I had my first fan day when I was a freshman," Marlon Humphrey said. "Some of the people would come up and I would sign my name right next to his name, and they would say, 'I got this back in 1985.'
"It always amazed me how someone could keep something that long that was probably just sitting in a cabinet or on a shelf and then his son comes up and I can sign right next to him. That always made me feel pretty special."
Bobby Humphrey couldn't be prouder of his son's accomplishments. It's important to him that Marlon stand on his own deeds.
"My kids never really knew who I was," Bobby said. "I was just dad. I never tried to explain to them who I was. I never pushed them to play football. I was just dad."
Reach Aaron Suttles at aaron@tidesports.com or at 205-722-0229.