Don't play with fire, the old saying goes. All it takes is a single spark.
More than 30 years after the end of Paul W. "Bear" Bryant's coaching career, he's still remembered as much for stories and legends as wins and championships. The difference between the man and the myth erodes with each passing fall.
More than 65 years ago, one of those stories sparked a fire at the start of his career, changing the fortunes of three college football programs along the way. It was early in Bryant's career as head coach at Kentucky. He had just won the Wildcats' first conference championship in football, and UK basketball coach Adolph Rupp had won yet another conference championship of his own.
Rupp's reward for his conference championship was a new Cadillac. Bryant received a cigarette lighter.
The football coach fumed at the disparity in gifts. Here it was: Physical proof of Bryant's status as second fiddle to Rupp's program in a state that valued basketball over football. Bryant eventually moved on to Texas A&M, and then to Alabama. The little cigarette lighter sparked it all.
The story is well-known even now. Bryant told it many times. History has seemed to validate it. Kentucky hasn't yet repeated the football success it found under Bryant, and its basketball program remains a crown jewel of the sport and the state.
The story is part of Bryant's legend. It's part of Rupp's legend.
The story itself is now legend, as much as the two men at the center of it.
DID IT HAPPEN?
There's ample reason to believe the story is true. Bryant told it dozens, perhaps hundreds, of times. There's even video of him telling it, sitting side by side with Adolph Rupp on the basketball coach's TV show. Scores of sports writers have repeated it in newsprint around the country.
It's even written in Bryant's 1975 autobiography "Bear," co-written with Sports Illustrated writer John Underwood.
"I have this picture in my den of Bud Wilkinson laughing at a banquet over a story I told about that time we won the SEC championship at Kentucky, the only time a Kentucky football team ever has," Bryant said. "(Adolph) Rupp had won it in basketball for the umpteenth time and they gave him a great big blue Cadillac with whitewall tires, and I said at this banquet, 'And here's what I got.' And I held up this little old cigarette lighter. Well, when the thing came to a head I remembered that cigarette lighter, and I knew I was too far behind to ever catch up."
That's the story that has endured, two-thirds of a century after it would have happened.
If it ever happened at all.
As Bryant tells it, the story would have taken place in early December 1950. Bryant had just won what is still Kentucky's only outright conference football championship. Rupp had won the conference championship again, the 18th time he had won either the regular season title or conference tournament. Bryant was indeed in Oklahoma at that time, scouting Wilkinson's Sooners in the 1951 Sugar Bowl.
An AP reporter did write about Bryant speaking at a lunch or dinner there, and he did tell the crowd a story similar to what he wrote in his 1975 book. But that's where the trail runs cold.
There's no record of Rupp receiving a Cadillac in 1950. If Bryant received a lighter, there's no record of that. The Bryant Museum in Tuscaloosa has several lighters that belonged to the coach, but none are from Kentucky.
Jon Scott, who runs BigBlueHistory.net, researched the story about the lighter and the Cadillac and published his findings about five years ago. The AP reporter wrote about the lighter and the Cadillac in 1950, but Scott found an immediate rebuttal from Ed Ashford, the sports editor of The Lexington Herald.
"Bryant's remarks at the Oklahoma City Luncheon were in a light vein. They were made in a kidding, off-the-record manner and he didn't think anyone would take him seriously," Ashford wrote in 1950. "He has made the same, or similar remarks before – even in Lexington – without causing consternation."
"To me, the most direct thing was the fact that Ed Ashford actually said it was a joke," Scott said. "That's probably the most direct evidence that we have."
A LEGEND GROWS
The spark was lit, though. Bryant kept telling the story, and it continued to grow in stature.
Other events also made it appear plausible on first glance.
Rupp did receive a Cadillac with whitewall tires, but that came in 1955. Bryant had left Kentucky for Texas A&M after the 1953 season, years before that. And the Cadillac was in commemoration of his 25 years at the school instead of a conference championship.
Scott has found photographs of Rupp receiving another car as a gift, but it came from the Chamber of Commerce, and that was in 1946. Bryant had only been hired at Kentucky earlier that year. In the video of Bryant telling the story on Rupp's coaching show, he holds a common plastic lighter in his hand. The story of a lighter and a Cadillac in 1950 just doesn't fit. There was no other season in which Kentucky won the conference in both sports.
Scott published his research partially in hopes that some definitive evidence could prove the story true or false. Proving a negative is next to impossible, but Scott's studies show no reason to think the story truly happened as Bryant told it.
"I put some of this stuff out there in the hopes that people would correct me or add more information," Scott said.
No one yet has stepped forward to dispute his conclusion. There's no evidence to support Bryant's story.
By now, most of those who are most familiar with Bryant's life also believe the story to be false. Taylor Watson, museum collection specialist at the Bryant Museum, said he doesn't believe it.
"It's important to remember that Coach Bryant's mother was a lay preacher," Watson said. "So she told stories and he learned, and he certainly told stories in parables. I think that story tells perfectly that no matter how good he was at Kentucky, basketball will always be king. And it should be, just like football will always be king here."
That leaves an important distinction: There is no doubt that Bryant told the tale. It became part of his story, and by extension, part of Kentucky football and basketball history. But as Scott points out, even in Bryant's book he doesn't recall the story actually occurring. Bryant recalls only telling the story at the banquet in Oklahoma.
Bryant told the story less and less later in his career, after he left Kentucky. Kirk McNair worked in sports information for the University of Alabama athletic department from 1970-79. He's heard the story same as everyone else, but never heard Bryant tell it in person.
"I never did believe it," McNair said. "I believe he told the story. I know he told the story. But I didn't ever believe it really happened."
It was a way for Bryant to get a laugh, McNair said. The story let him point out that he'd won the conference championship at Kentucky without appearing to brag. McNair also remembers that Bryant never used a lighter when he smoked; he lit his cigarettes from a book of paper matches. The Bryant Museum does have a large collection of paper matchbooks gathered by someone in the Bryant family.
The story of the lighter and the Cadillac made for amusing fodder at dinners and receptions and sounds plausible enough to be factual, but there's no evidence to support it. It's apocryphal, McNair said. But it still lives on, for a simple reason.
"It's a great story," he said.
BRYANT AND RUPP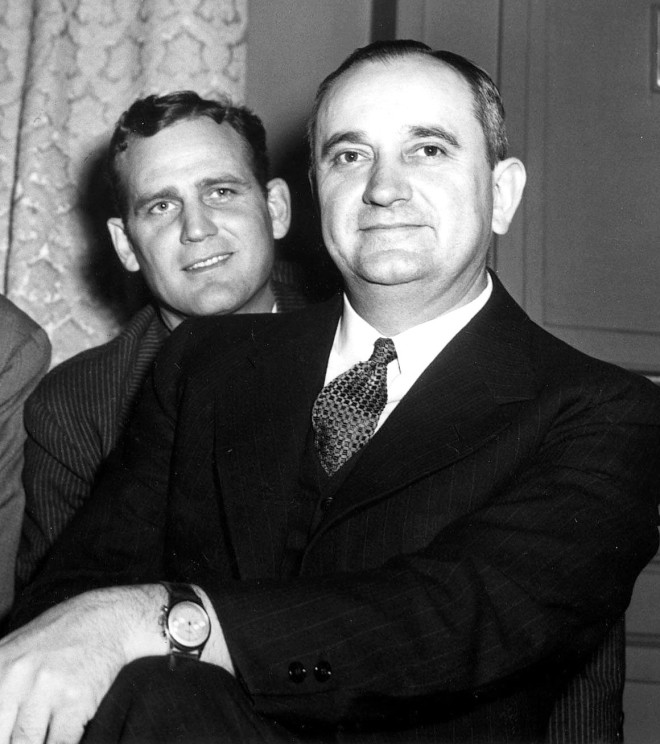 If there was tension between Rupp and Bryant at Kentucky, it dissolved as both aged. Bryant eventually called Rupp for a recommendation on who to hire as Alabama's basketball coach. Rupp suggested C.M. Newton.
In the same chapter of his biography in which Bryant recalls the story of the lighter and the Cadillac, he says he and Rupp are "real close now." After going 1-9 in his first year at Texas A&M, Bryant and Rupp participated in a coaching clinic in Utah together. Rupp spoke glowingly of Bryant's coaching ability to reporters even after the substandard season. Newspapers in Texas ran with his comments, assuaging some pressure Bryant was feeling.
Rupp did a series of extended interviews with longtime Kentucky athletics sports information director Russell Rice in 1971, discussing his life and career in-depth. He gave his own thoughts on Bryant's departure for Texas A&M in one of those interviews.
"I didn't think the fellow would ever leave here," Rupp said. "He had things made, and he had things going good, but he wanted to be athletic director. Now, he wasn't afraid of basketball. He didn't have to be afraid of basketball. A lot of people here in Lexington and Central Kentucky say, 'Well, he left because of Rupp. He left because he just couldn't stand to see basketball be a prominent sport.' That isn't true. If that's true, why did he build a 15,500 seat auditorium (Coleman Coliseum), the finest auditorium in the nation to play basketball in? Why did he build that? Why did he give Newton the same number of scholarships down there as we have here? Why does he show this interest in basketball if he wasn't interested in it here? I'll tell you one thing. He wanted to be athletic director.
"Now let's look at things. The football coach at Tennessee at the time was also the athletic director. The one at Georgia was, the one at Florida was, the one at LSU was. The one at Mississippi was … the one at Georgia Tech was. They were in the conference. And, whenever they'd have an athletic director's meeting, he sat on the outside and didn't get in on those things, and it kind of rankled him a little bit because he wanted to be in on these things, and he wanted to be an athletic director, too."
Texas A&M did hire Bryant as football coach and athletic director when he left Kentucky after the 1953 season.
If there were personal issues between the two at Kentucky, there isn't a record of it in Bryant's book – other than the story of the lighter and the Cadillac. In a Sports Illustrated story with Underwood, Bryant refers to the issue as a "clash of objectives." He specifically mentions there were no personal disagreements between the two men.
"Rupp and I never had a cross word," Bryant wrote. It was common for Bryant and Rupp to attend each others' games and sit on the bench. Rupp was at Kentucky's 1950 Orange Bowl loss.
The next year, Rupp's basketball team played in the Sugar Bowl Classic, a tournament in New Orleans before the football team played in the Sugar Bowl. Bryant sat on Rupp's bench during the basketball tournament, and Rupp was on the sidelines during Bryant's win over Oklahoma.
That 1951 Sugar Bowl came at the end of the 1950 season. That's the season when Kentucky football had won the SEC. It was the same season that sparked Bryant's story of the lighter and the Cadillac.
"I don't believe anybody could have gotten along nicer," Rupp said in his interview. "(Bryant is) high-strung. And of course, I'm a mild-mannered man, as everybody knows, so we got along pretty well. But how two high-strung fellows like we both are, wouldn't clash somewhere along the way is indeed a mystery. But not once did he say a harsh word to me, or did I say anything to him."
McNair remembers an occasion in the mid-1970s when Bryant and Rupp spent an evening together at Bert Bank's home on Lake Tuscaloosa together. It was a small, private gathering not meant for show. Bryant and Rupp were joined by Newton and a handful of others, including McNair. Most of the evening was spent with the two legendary coaches telling stories back and forth.
"They were as jovial as they could be," he said. "You'd have thought they'd been best friends since they were little kids: telling stories, laughing, not a bit of jealousy. By then, of course, Coach Bryant was the king of college football."
The story of the lighter and Cadillac didn't come up.
THE LEGEND LIVES ON
That tale about the lighter sparked a fire that still burns today. Kentucky still hasn't won a conference championship in football outright since that 1950 season. Earlier this year, the Wildcats made headlines when they installed a new trophy to honor the 1950 team, claiming a national championship for the program.
So the legend of the lighter and the Cadillac lives on, long after both men involved have passed away.
At least one thing is certain.
"He definitely told the story," Scott said.
But beyond that, there's little evidence to support it actually happening as Bryant told it. There appears to be no lighter that matches his description, and no Cadillac given to Rupp at that time.
It didn't seem to matter to either man as years passed. They kept other memories of their time together at Kentucky. Rupp passed away in 1977. When told of the news, Bryant remembered a friend instead of a rival.
"I'm awfully sad to hear this," Bryant said in a statement at the time. "It's a deep and personal loss for me, and sports has lost one of its most inspired and inspiring men. I'm sure that Coach Rupp had a positive effect on everyone who ever had the privilege to be associated with him. I know that my years with him at Kentucky and our friendship in those years since meant a great deal to me.
"The word legend is sometimes thrown around loosely, but he truly is a legend. His family has my deepest sympathy."
The Bear knew a thing or two about legends.
Reach Ben Jones at ben@tidesports.com or 205-722-0196.