Coaches have scoured dozens of games searching for weaknesses of the University of Alabama defense. They can spend hundreds of hours in search of the smallest advantage.
It's no small task. There are precious few faults to be found.
But among Alabama's handful of losses in recent years, some outsiders may see a common thread: mobile quarterbacks.
The idea may have started with Cam Newton's performance in the 2010 Iron Bowl. Johnny Manziel's 2012 upset at Bryant-Denny Stadium would support the theory as well. Nick Marshall played a key role in beating Alabama in 2013.
Other quarterbacks who have beaten Alabama may not have been in the same class as those three, but qualify as mobile nonetheless. Ohio State's Cardale Jones could run. So could Ole Miss' Bo Wallace and Chad Kelly.
Texas A&M's Trevor Knight probably contributed to the narrative as well. Oklahoma beat Alabama in the 2014 Sugar Bowl with Knight at the reins.
It's become a common enough line of thought that players have heard it. Some might even agree with it.
"I guess that's fair to say," defensive end Jonathan Allen said. "We have struggled with them in the past, but I mean we're not really worried about that. We're worried about doing what we have to do to get better every week. There are a lot of running quarterbacks that we face in the SEC, so we are going to take that with a grain of salt and keep moving."
MYTH OR REALITY?
Maybe that's too simple, though. Alabama has faced dozens of mobile quarterbacks in recent years. It's won most of those games.
"I do not, and never have believed, that when you play Alabama they struggle with tempo or mobile quarterbacks," CBS analyst Gary Danielson said.
Alabama held Tennessee's Joshua Dobbs to 92 passing yards and minus-31 rushing yards a week ago in a 49-10 romp. Dobbs is 0-4 against Alabama in his career. Former Mississippi State star Dak Prescott was 0-2 as a starter against Alabama with two touchdowns and four interceptions.
Less accomplished quarterbacks who still have strong running ability haven't had any more luck. Kentucky's Stephen Johnson posted minus-26 rushing yards against Alabama earlier this year. Florida's Treon Harris had minus-4 rushing yards in the 2015 SEC championship game.
Opposing coaches don't think mobile quarterbacks are kryptonite for UA's defense.
"They're very, very physical," Tennessee coach Butch Jones said. "They run to the football. No, I have not seen that (as a weakness)."
Some players disagree with the notion that Alabama's defense can't contain running quarterbacks.
"I wouldn't say that," linebacker Rashaan Evans said. "I mean, to be honest with you, whatever team that we're going against, they've always got scholarship athletes. That's why they're all good. For them to say that, I don't think that's true because those guys are good as well."
Many of the quarterbacks who put up the biggest games against Alabama's defense were more than just mobile threats. Newton and Manziel were Heisman Trophy winners and among the most talented players in the country. Marshall was an All-SEC choice. Each was mobile, but each was also elite.
They each had plenty of help, too. Quarterback may be the most important position, but it can receive a disproportionate amount of blame and credit alike.
"Let me put it to you this way: I'll give you the most mobile quarterback," Danielson said. "I'll take the offensive and defensive line that can match up physically and I'll play them. Give me Ohio State's offensive and defensive lines. You can have Deshaun Watson. Because I think you're destroyed if you can't match up on the offensive and defensive line."
KNIGHT MOVES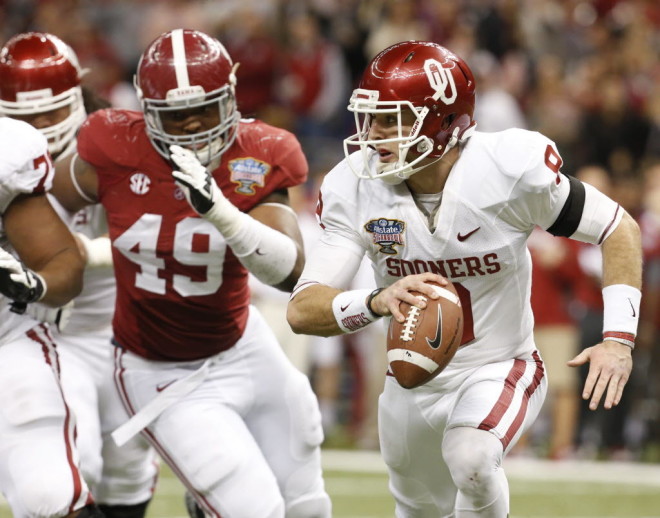 Some may consider the 2014 Sugar Bowl to be a demonstration of the success a running quarterback can have against Alabama. Knight had a reputation as a mobile quarterback entering that game – he had rushed for 438 yards and passed for 471 yards that season before the Sugar Bowl as a part-time starter.
"He's an outstanding athlete and very capable of running the ball," Nick Saban said on Monday. "… He's improved. He passed the ball well when we played against him before, but that was supposed to be the issue and he has done that extremely well this year for them, to create kind of balance in their offense that makes it very difficult to defend."
His performance that day had far more to do with his arm than his legs, though. He went 32-for-44 passing for 348 yards and four touchdowns. He ran for just one first down. Knight had the ability to make plays on the ground, but he didn't gash Alabama with long scrambles.
That's more common than might be believed. Some of the mobile quarterbacks who have beaten Alabama have done so without big games on the ground.
"Stephen Garcia (South Carolina) beat them from the pocket," Danielson said. "Tim Tebow (Florida) basically was neutralized as a runner. He beat them in the fourth quarter from the pocket. Cam Newton ran for 60 yards, and he beat them in the second half from the pocket. Trevor Knight, he couldn't throw it any better that day in that bowl game. He had man-on-man coverage, threw the ball great and beat them from the pocket."
Saban remembers the game, but said he doesn't plan on referring to it during film study for the week.
Neither does Texas A&M coach Kevin Sumlin. He doesn't think there's much to be gained by looking at what succeeded for Knight in that game.
Alabama has since changed offensive and defensive coordinators. Eddie Jackson is the only current starter on Alabama's defense who started that game.
"It'd be like watching our (Texas A&M-Alabama) game in 2012," Sumlin said. "I don't know what we can get out of that game either. There's hardly anybody left from that game and really if you look at Alabama's roster, it's about the same."
Saban and Sumlin would both rather watch more current film. Knight has been one of the biggest reasons for Texas A&M's 6-0 start. He's passed for 1,500 yards with nine touchdowns, and run for 502 yards and nine touchdowns. He leads all SEC quarterbacks in rushing yards.
"We know what kind of player he is," Saban said. "It's very obvious in the film. I think a lot of the things he did then are the same kind of things that he's doing now. That makes him a very effective player. We're going to have to do a really good job against him."
RABBITS HUNTING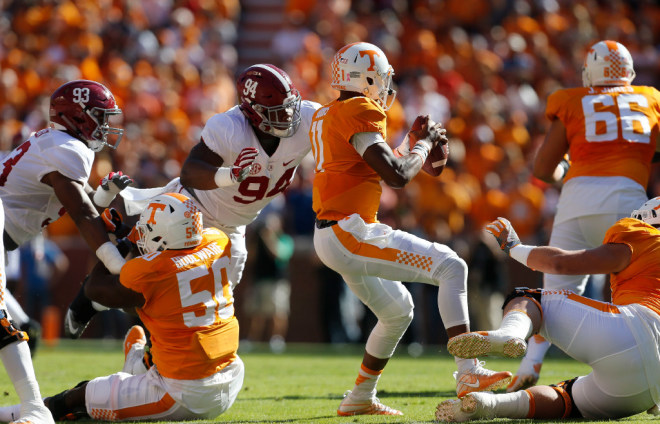 Alabama has a plan when playing mobile quarterbacks. The defense frequently went to its "nickel rabbits" package last week against Tennessee. It's the same strategy the defense used in the second half against Clemson in the national championship game, Saban said.
Outside linebackers Tim Williams and Ryan Anderson move up to play defensive end. Many of its defensive ends, like Jonathan Allen and Dalvin Tomlinson, are cross-trained and can play inside.
"I think it helps because it gives us more multiples of players to substitute," Saban said. "So we can actually play more guys, which saves our guys a little bit and we can be more fresh."
It puts more speed on the field. Williams, Anderson, Allen and Tomlinson have combined for 15 sacks and 22.5 tackles for loss this season.
Watson ran for just 28 yards in the second half of the championship game last year as Alabama shifted to use the package more. Dobbs had found some success running against Alabama in previous years, but it didn't happen last week. There wasn't a way for him to get outside the pocket and scramble.
"It helps us contain them a lot easier, and we don't have to worry about them losing contain and then breaking out on the outside and getting a lot more yardage," Tomlinson said.
The UA defense also has the advantage of seeing Jalen Hurts in practice each day. He ran the scout team during Alabama's prep for Clemson, playing the role of Watson.
Count Sumlin among the coaches who don't believe mobile quarterbacks are a bugaboo for the defense. Aggie quarterbacks Kyle Allen, Kenny Hill and Kyler Murray have had their chance in the last two years since Manziel departed. All three could be considered mobile, but none has found success against Alabama. They've combined for minus-40 yards rushing against the Crimson Tide defense.
"They don't seem to struggle with a lot of anything to me," Sumlin said. "They're a really good defense. What's scary about them now, instead of just stopping you, they're scoring points. We learned that the hard way last year."
The performance against Tennessee gives the defenders a framework for stopping mobile quarterbacks. It also gives them confidence.
Saban said Knight is "as productive as anybody we've played all year." The Aggie offense includes explosive wide receivers and one of the conference's best running backs, but Alabama knows what it would mean to stop Knight.
"We just have to contain the pocket and collapse the pocket and just know where he is at all times in case," Tomlinson said. "We can't make any gaps up the middle, because he can just take off running for a first down."
DEFENDING BALANCE
Knight is already part of the narrative surrounding Alabama and mobile quarterbacks. A big game from him and a win for Texas A&M would build on the popular perception.
There are other parts of the game to worry about, though. The undefeated Aggies have two of the SEC's top wide receivers. Running back Trayveon Williams leads the conference in rushing yards per game. Knight hasn't been a one-man wrecking crew this season.
"What gives (Alabama) problems is balance," Danielson said. "You have to be able to keep their defense off balance with pocket passes, play-action passes, running game, screen game, you have to have the entire package because they're the best team in the country and have been this way of being able to exploit your weakness. If you allow Nick Saban to know that one type of your offense you're trying to avoid, he'll double up on the other parts and he'll stop you. When he has to cover your whole offense, you have a chance."
Danielson called the 2010 and 2013 Iron Bowls. He was in the booth for Manziel's upset win in Tuscaloosa and South Carolina's 2010 win over Alabama.
He's also seen many, many more Alabama wins in the last several seasons. Plenty of those have been against mobile quarterbacks. Some may believe Alabama flounders against dual-threat quarterbacks, but he dismisses the idea.
"I think it's just groupthink, personally," Danielson said. "It's easy to say it. It's hard to beat Alabama no matter what you have. They have six straight No. 1 recruiting classes. They're good. It's hard to beat them. They have, for the most part, better players than you do. So you have to play a special game to beat them. The tendency is to think of highlight plays. You think of six plays instead of 66 plays. Without 66 plays, you don't have a chance to win with six plays."
Reach Ben Jones at ben@tidesports.com or 205-722-0196.