They may have been there for a football game, but as a child, Dalvin Tomlinson saw the weekend trip to Panama City, Fla., as a family vacation. His brother Labronzo and cousin Cornelius were playing in the equivalency of a Super Bowl for their youth team. Although he was too young to play at the time, Dalvin tagged along.
The future University of Alabama defensive lineman watched in awe as Labronzo and Cornelius helped their team pull off a fourth-quarter comeback. Dalvin fell in love with the game, and he shared that moment with the one person who meant most to him right by his side.
"Me and my mom were just cheering like crazy on the sideline," Dalvin said.
That is Dalvin's favorite memory of his mother, Melinda. She passed away on June 30, 2011, the summer before Dalvin's senior year of high school, from heart disease and kidney failure.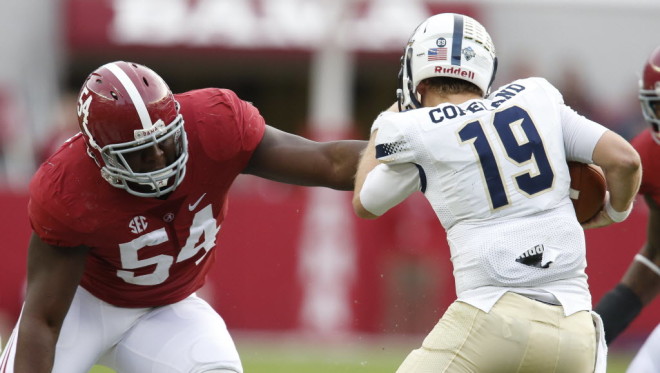 Since his father died when he was just 5, Melinda was Dalvin's rock. The McDonaugh, Ga., native still hears his mom's voice more than five years later. He keeps three things she preached on repeat.
They were life lessons.
"She didn't say much, but when she did say something your ears kind of perked up," said Dalvin's former wrestling coach, Marty Hutsell. "You listened to her."
"Don't hold grudges."
It was 1 a.m. when Dalvin's aunt Mary woke him up with the news that his mother had been put on life support.
They returned to the hospital, where just the night before Dalvin had discussed his future with his mom.
Melinda held on through the morning, giving Lobronzo enough time to get there from Tennessee. Then the room cleared. It was just the two sons sitting next to their mother's bed, waiting for a miracle.
The sun set without her.
"Dalvin cried and cried on my shoulder," Hutsell said. "Then we went out for lunch at Chick-fil-A, just to get him out of the hospital, and we talked."
By the time they were done, Dalvin had decided he was going to dedicate his final football season at Henry County High School to his mother. He wasn't going to give up. He was going to remain strong — for the future he and his mother had envisioned that final night together.
That became more of challenge when he tore a ligament in his left knee playing on the school soccer team.
Dalvin was a goalie, but he also spent time playing striker. The injury put his commitment to playing football at Alabama into question.
"I told him, 'Keep your promise to your mama. You said you're going to Alabama,'" Mary said.
In 2012, the former four-star recruit sat out his first season as a redshirt. A year later, he made his collegiate debut against Virginia Tech and made four tackles.
During practice the next week, Dalvin sustained a torn ligament in his other knee. He realized he's not invincible.
"You're talking about a guy that is a great example of perseverance," UA head coach Nick Saban said. "He always seems to make the obstacle the way to get better and improve: as fine a person and as fine a young man as you're ever going to find."
Dalvin has remained injury-free since returning to the field for Alabama's 2014 season opener against West Virginia. He's played in every game to date.
Along the way, the redshirt senior picked up a tradition. Dalvin writes "RIP MOM" in bold, black letters on his wrist tape before every game.
"She's the reason I'm here," Dalvin said. "I want to give respect to her because she can't be at the games like everybody else's moms."
"Life is too short to not have fun and enjoy life, so do the things you want to do."
When he first started playing football, Dalvin was reluctant to make tackles and hit people.
Actually, he was scared.
"I didn't want to hurt my friends," he said.
But, he wanted to play. It was an internal tug of war, until it wasn't. He had no choice.
"The coach pushed him," Mary said. "When they took a break, (Dalvin) walked up to me and said, 'Coach is yelling at me.' I said, 'Do what he says so he won't yell at you. He knows you can do it.'"
Dalvin got over his fear.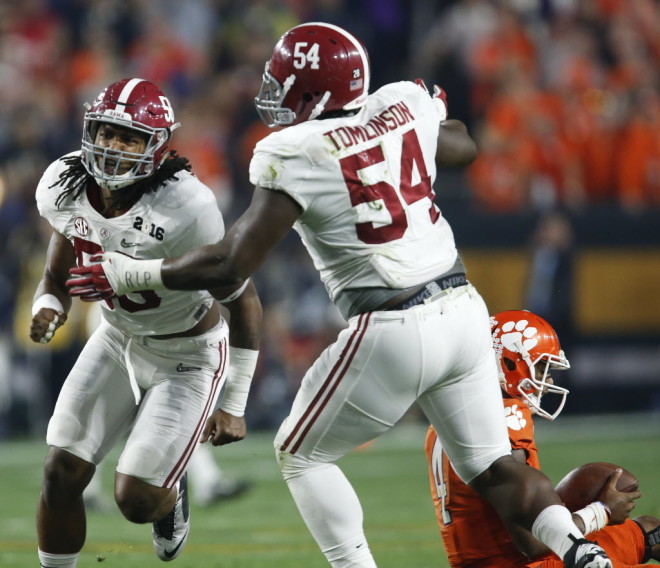 Former Henry County football coach Mike Rozier nicknamed Dalvin "The Renaissance Man" because his star player ended up doing a little bit of everything.
Along with football and soccer, Dalvin wrestled and participated in track and field at Henry County. Although Mary remembers Dalvin loving to play basketball with his younger cousins, Hutsell knows the truth.
"He cannot shoot a basketball," Hutsell said. "He's a construction worker; he shoots bricks."
Sports weren't all Dalvin picked up. He also picked up a knack for music. Dalvin played the trumpet, drums (snare and bass) and the xylophone.
"I might be a little rusty at the trumpet," Dalvin said, "but I can still play the percussions instruments."
Yet, he doesn't have any in his apartment to play for his roommate, offensive lineman Korren Kirven.
Instead, Dalvin's go-to activity is a silent one. He loves to draw. It relieves stress. He has been an artist for ages, with a talent for cartoon and animated art.
During the season, Dalvin sticks to sketches, but when he is free in the spring he likes to dive into more detailed pieces. If he wants a challenge, he'll try for realism.
To say the least, Dalvin dabbles in a little bit of everything.
"If there were 25 hours in a day, he'd need it," Hutsell said.
"There's always going to be someone better than you in the things you do, so you should never get complacent."
Bobby Taylor was better than Dalvin at wrestling. It was a simple senior-versus- freshman scenario.
In time, Tomlinson outperformed his counterpart. As a senior, Dalvin became Georgia's first three-time heavyweight champion ever after a nine-second pin.
"I might have made a mistake now that I look back," Hutsell said. "Dalvin might have been a four-timer if I had put him out there, but he couldn't beat Bobby Taylor."
Football, however, was Dalvin's true love. It has been ever since that family vacation. Later, with his mom's voice carrying from the solace of her spot at the concession stand, Dalvin quickly became a force on the gridiron.
The 6-foot-3, 305-pound defensive beast's goal is to be in Philadelphia come April 27 for the 2017 NFL Draft.
Without Melinda, Dalvin would turn to the woman he calls his second mom.
"He'd want me there," Mary said, "and if he goes, I said I'll take you there. I'll take you. It'd be real exciting."
Mary would be like another proud parent in the crowd, just as she was last year at Dalvin's graduation. He has already received a degree in finance and is working toward a second one in financial planning.
Apart from professional football, Dalvin's dream job would include advising young athletes who are getting into the real world and helping them plan ahead financially. He knows his mom would be happy he's building off his love for numbers.
"She'd be proud, more than anything, about him graduating," Rozier said. "She would have a big smile on her face because I know that was first."
Dalvin has done everything his mother ever wanted – and more. There's just one thing he'd like to be able to tell her: "I love you."