It's one of the biggest rivalries in college football. So exactly how do the players deal with all the distractions, pressure and emotions that build up during the week? Former Alabama and Auburn players give their take on preparing for the big game.
They wore crimson and white or orange and blue, but they have something in common.
The men who have played in the Iron Bowl, participating in what is arguably college football's greatest rivalry, come out of it with a new perspective and a shared experience.
Whether they played for the Alabama Crimson Tide or the Auburn Tigers, they marvel looking back at the intensity and importance of that single Saturday each year. Through that shared experience, they gained an appreciation for the magnitude of the event and the reverberations from it that can last a lifetime.
With the 81st Iron Bowl commencing at Bryant-Denny Stadium on Saturday, here is a look through the eyes of four former players – two from Alabama, two from Auburn – at what it's like leading up to the contest, what it's like on the field and what it's like afterward.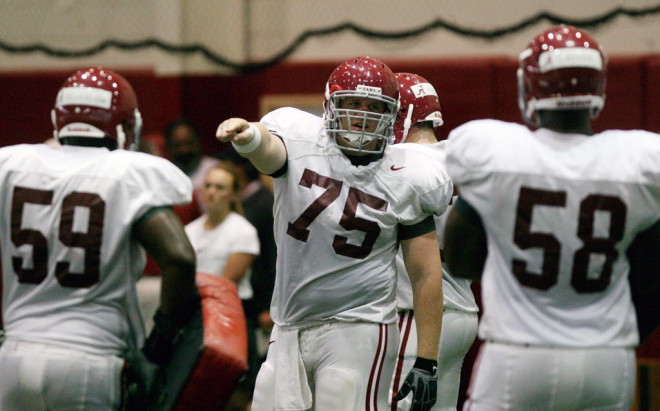 Iron Bowl practice
Barrett Jones (Alabama offensive lineman, 2008-12): It's definitely a very intense practice week. I've always said the biggest difference in rivalry games is you never have to make guys practice, everybody's jacked up and they know what's on the line.
Ronnie Brown (Auburn running back, 2000-04): For me, my freshman year I didn't understand the magnitude of the game. Being a kid from Georgia, I was looking at the Georgia game, before the season I was circling that game, 'I'm going to make sure they think they should have signed me there.' You pull in the week of the (Alabama) game and you see all the RVs and campers on campus, you kind of realize: This might be big.
John Causey (Alabama center, 1992-96): You want to think every game was big, especially at Alabama, but that one there's no denying. It's called the Iron Bowl, it has its own identity. You know as a player where you are and the importance of the game.
Cole Cubelic (Auburn offensive lineman, 1996-2001): I've always told people that week of practice is different because of the level of focus, and it carries over to the game. The reason I think it's usually such a clean game is that most guys don't want to be the one who makes the big mistake, because you know it's going to be a highlight and you know it's going to be talked about and discussed and shown and replayed over and over and over.
Jones: It's kind of a heightened sense of focus, even though Coach (Nick) Saban would probably say he wants it the same every week. It's not harder-hitting, I'd just say it's more general focus in the meeting rooms and on the field. Everybody is locked in. The tempo of practice is everyone's always zipping around.
Brown: You just know. It's easy to prepare, easy to focus. You know how important it is. It's just a different feeling. You kind of just pick it up.
Causey: You can definitely tell the attention is a little higher. I don't know if it was more vocal, but coaches were a little bit more intense, preparation was more specific. You could tell the implications were huge.
Cubelic: I also think a part of it is – and I never would have known this back then, but I do now – is there's so much exterior BS that goes on leading up to that game, that week, that football becomes even more of an escape. The practice field becomes more of an escape.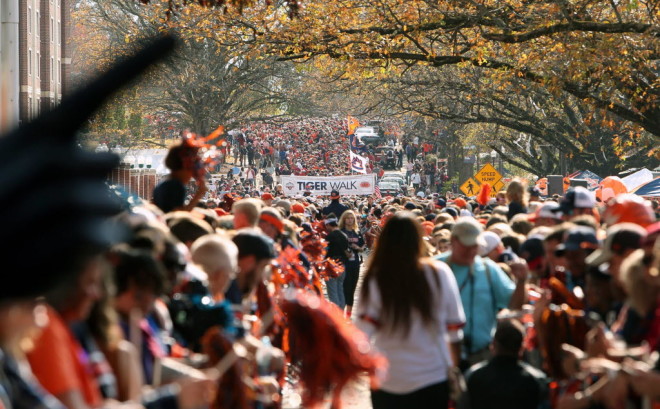 On campus
Cubelic: You've got so many people when you're walking to class asking about the game plan, what's going to happen in the game. And kids that you played with in high school or the guy who coached you in little league are calling you wanting to know about the game. 'Who's hurt and who's healthy?' 'Can you help me get some tickets?' 'We're coming to the game, are you going to be around?' It gets exhausting in a hurry. There's extra media requests. There's extra people around the facility who stick around after practice to give a talk every day.
Jones: Everyone's excited. I don't think I really appreciated how big it was until I got there. Being around the students, I really began to understand it. Everybody wants to get the pulse of the team. I've even had professors do it. They want to feel more confident.
Brown: Everyone's just like, 'Are we going to win? Are we going to win?' It doesn't happen much during the year until that week, then everybody is asking.
Causey: Everywhere you turn people are talking about it. You turn on the TV or the radio, even look at billboards, you knew who you were playing.
Jones: I think until you've lived among it for a while, that's the only way you can fully understand. People talk about bragging rights: You literally have bragging rights the whole year around all your friends.
Cubelic: There are a lot more for this game, I guess, organizational items that need to be handled than there are the week before or the 11 weeks before. You're talking about things you're going to do once school is over, once the game is over, because if you're not in the SEC Championship Game you're gone. Or what if you end up in the SEC Championship Game? So you have to cover all those things leading up to this game because this is the last regular-season game.
In the game
Cubelic: I played at home, I played at Legion Field (in Birmingham) and I played in the first one at Bryant-Denny (in Tuscaloosa) for a long time. Coming in from Tiger Walk for warm-ups at Legion Field and growing up in Homewood, the amount of people I spotted on the fence or in the first few row of the stands that I knew: I mean, like a couple of hundred people that I would walk by and, 'I went to middle school with that kid,' or 'That's so-and-so's dad,' or 'I know that guy from when I used to work at Brookwood Mall,' whatever.
Causey: Just the buzz – from people loading the bus, to the hotel, to the locker room – people are more focused. I played in Auburn, I played in Birmingham, but it didn't matter where you played at. The environment is intense the whole game no matter what the score is.
Brown: Once you get in the stadium it's just a contagious energy. It's a million people there, it seems like people are everywhere. The sidelines are full, the stadium's full.
Jones: The first one I played in, 2009, just to run out of the tunnel and feel it, there's a lot of emotion and passion in the stadium. There's passion for every game, but somehow it's different for that game.
Cubelic: I don't know what it is about rivalry games, but I feel like you hear more individual comments from fans. People call you out individually more in those games than they do other ones.
Causey: I remember breaking the huddle in the first Iron Bowl that I played in Birmingham and Mike Pelton is their nose guard and I remember looking down and seeing that AU on his glove and thinking, 'This is the big-time. This is it.'
Brown: Toward the middle of the first quarter you kind of settle down. The coaches try to keep that mental attitude and keep the players from getting too excited. Some people can't handle that. After that initial drive for each side, then you kind of feel like it's a normal football game even though the outcome is going to have a lot of weight to carry.
Causey: You know it's going to be a four-quarter battle, so you want to let the emotions stay in the stands, but you can't ignore it. You hear the bands, you feel it from the stands. It's a constant reminder.
Jones: It's incredible. I didn't really grow up hating Auburn. That was an acquired taste that came with time. Probably 2010 is what did me in.
Causey: There was always an underlying respect, too. It's one of those things where a lot of these guys you knew from getting recruited or being around the state of Alabama. It was respect, but it was diplomatic. You got after their behind, there was no love lost, respect or not.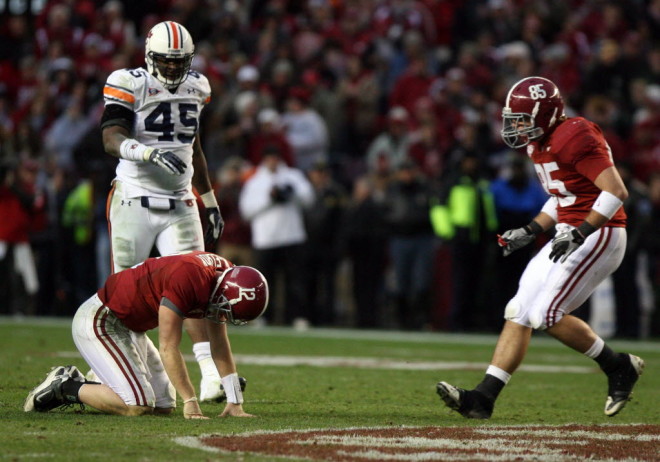 When you lose
Jones: I still have a memory of their quarterback at the time (Cam Newton in 2010) covering his mouth and pointing at us. That haunted us at the time. It was awful. It really was. I didn't even play in that game, I had a high ankle sprain, but that was the worst feeling I ever had over a loss.
Brown: You have to hear about it year-round, 'Roll Tide.' People start to wear their gear a lot more. It seems like everybody's a fan of Alabama at the time and you can't go anywhere without seeing it.
Causey: Terrible. Just terrible. Unfortunately, I had to experience that.
Cubelic: Miserable. You don't want to be around anybody.
Brown: If you do lose, I think momentum going into the next season: It's something that you keep up with for that next 365 days, we've got to get that taste out of our mouths. Each week is build-up for that.
Jones: I think fueled us to two national titles, that feeling. I didn't run from it. I talked about it and I hated talking about it. I think the worst thing about that was you want to play again as quickly as you can. The only way to get it out of your system is to get out there again. You want to kind of move on, but sometimes that's hard when they won't let you forget.
Cubelic: My family was always pretty cool about me emotionally after games. They knew that I took losses harder than I should. They knew that if I lost to that team I would take it a lot harder than I should.
Causey: You get to live with it as a win, but you have to live with it as a loss.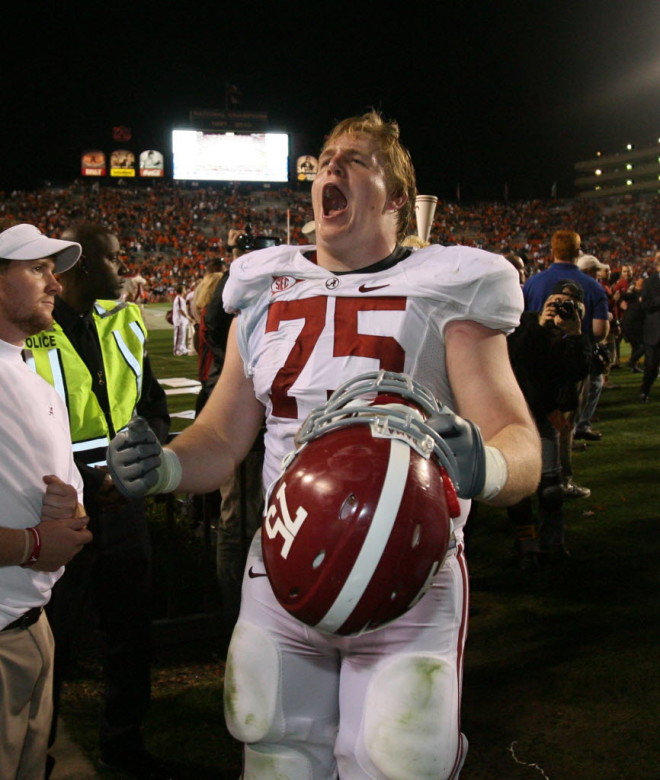 When you win
Jones: Incredible feeling, just awesome. Everybody's just jacked up and excited.
Brown: The next 365 days are good whether you're in Auburn or you're traveling. You go to Birmingham or Montgomery to the mall or I go back home to Georgia, it's just excitement.
Causey: I was fortunate to win my last one. We had a 74-yard drive to win. I get chills thinking about it.
Cubelic: It's the best feeling you can have as a college football player.
Jones: I don't have any dramatic words, but in some ways it feels just as much as winning an SEC championship because I guess you're winning the state championship.
Brown: I've been out of college 12 years now and people will still have memories. There's something that sticks. Those things go on forever. People remember those things.
Causey: Everybody says 365 days, but you hear about it as a player and now being a former player. It's part of you for the rest of your life.