LSU's Burrow has been having 'Heisman moments' since September, and they keep adding up
Glenn Guilbeau
The Daily Advertiser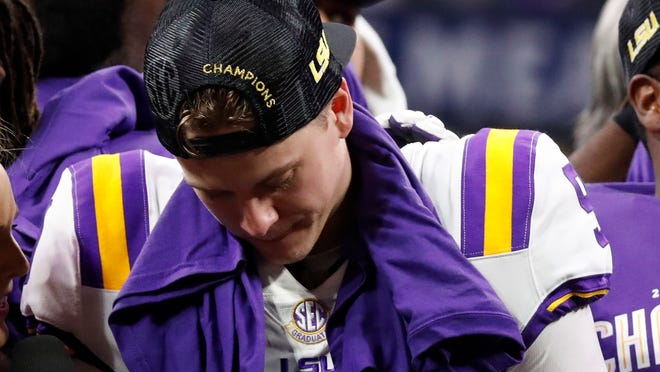 BATON ROUGE — The Heisman Trophy moment — it is what virtually everyone has looked for from a candidate throughout most of the history of the iconic award that has gone to the nation's best college football player since 1935.
LSU senior quarterback Joe Burrow is expected to win the award Saturday night in New York City (7 p.m., ESPN) by a large margin after enough "Heisman moments" to fill an hour.
LSU rockets to No. 1: Tigers overtake Ohio State
Many other winners also had more than just one signature moment, but here are some of the single plays that are believed to have either won or secured the Heisman in the past:
» Tailback Billy Cannon won LSU's lone Heisman 60 years ago this month in New York City because of his famed 89-yard punt return in the fourth quarter on Halloween Night 1959 as No. 1 and defending national champion LSU beat No. 3 Ole Miss, 7-3, in a "Game of the Century."
» Boston College quarterback Doug Flutie threw the ultimate "Hail Mary" touchdown pass of 48 yards as time ran out to wide receiver Gerard Phelan for a 47-45 win over Miami in 1984 that got him the Heisman.
» Florida quarterback Steve Spurrier completed 27 of 40 passes for 259 yards with a 1-yard touchdown run against Auburn in 1966, but what won him the Heisman, people believe, was the 40-yard field goal he kicked with 2:12 to play for the 30-27 win.
» Michigan wide receiver/returner Desmond Howard not only returned a punt 93 yards for a touchdown and 24-3 lead over Ohio State in 1991, he struck a Heisman pose in the end zone, and the campaign was done. Michigan went on to win, 31-3. 
According to Heisman voters interviewed at LSU's 37-10 victory over Georgia in the Southeastern Conference Championship Game on Saturday, Burrow started his path to the Heisman on Sept. 7 at No. 9 Texas.
But he secured it with a huge clamp in a 46-41 win at Alabama in a "Game of the Century" as the No. 1 Tigers held off the No. 2 Tide at Bryant-Denny Stadium in an afternoon game nationally televised by CBS on Nov. 9.
"I would say Burrow was the lead candidate by mid-season," Sports Illustrated columnist Pat Forde said before the LSU-Georgia game. "He kept playing at an unbelievable level. There was a little bit of a wobble here and there."
Burrow completed 31 of 39 passes for 471 yards and four touchdowns in the 45-38 win at Texas, including a 61-yard touchdown pass to Justin Jefferson for a 45-31 lead with 2:27 to go.
He went on to throw for less than 300 yards in a game only once, as he completed 21 of 24 for 293 and three touchdowns in a 42-28 win over No. 7 Florida.
"And then he iced it against Alabama," Forde said.
Burrow completed 31 of 39 passes for 393 yards and three touchdowns in the Alabama win and directed the Tigers to touchdown drives of 75 yards in 12 plays and 75 yards in seven plays in the fourth quarter to put the game away after the Tide had cut a 33-13 halftime deficit to 33-27 early in the fourth quarter.
A Game to Remember: LSU 46, Alabama 41
He also rushed for 64 yards on 14 carries.
"When he took LSU on those two drives at Alabama, it was over," said Ed Daniels, sports director at WGNO TV in New Orleans. "Every Heisman winner has his moment like a Desmond Howard. That was it for Joe. Alabama had all the momentum, and he brought them back. He had a series of moments in that game. That was it. But he had so many others all season."
In only one game this season did Burrow throw more than one interception. In a 58-37 win at Ole Miss on Nov. 16, he threw two.
Tiger Rag Magazine editor Ron Higgins, a former columnist at the Times Picayune in New Orleans, pointed out Burrow's play against top 10 teams. Entering the Georgia game, Burrow was 115-of-144 passing for a .798 completion percentage, 1,478 yards and 11 touchdowns with 146 rushing yards in wins over No. 9 Texas, No. 7 Florida, No. 9 Auburn and No. 1 Alabama.
in the win over No. 4 Georgia - the last LSU game before the Heisman - Burrow was 28-of-38 passing for 349 yards and four touchdowns while rushing 11 times for 41 yards. That makes him 143-of-181 passing for a .790 completion percentage, 1,827 yards and 15 touchdowns with 187 rushing yards in five games against top 10 teams.
"He's just been off the charts against the top 10," Higgins said. "He was great in the Alabama game. Then when Tua got hurt, it was over."
Alabama quarterback Tua Tagovailoa was among the leaders in USA TODAY's in-season voting before he was lost for the season after injuring his hip against Mississippi State on Nov. 16.
"And Jalen Hurts tailed off a bit," Higgins said.
Burrow is No. 2 in the nation with 4,715 passing yards, which is the all-time SEC record for a season. Oklahoma quarterback Jalen Hurts is No. 2 with 3,634 passing yards. The two will meet on Dec. 28 in a College Football Playoff semifinal in Atlanta at 3 p.m. on ESPN as No. 1 LSU is 13-0 and No. 4 Oklahoma is 12-1.
The LSU-Oklahoma winner will advance to the national championship game in New Orleans on Jan. 13 against the winner of No. 2 Ohio State (13-0) and No. 3 Clemson (13-0), which play at 7 p.m. Dec. 28 in Glendale, Arizona, on ESPN. 
Burrow is No. 2 in the nation in passing yards a game with 362.7, while Hurts is No. 17 with 279.5. In passing efficiency, Burrow is No. 2 in the nation at 201.5 on 342-of-439 passing with six interceptions and 48 touchdowns, which is the SEC record for a season. Hurts is No. 3 at 200.3 on 222-of-309 passing with seven interceptions and 32 touchdowns.
Hurts is one of three finalists other than Burrow who have been invited to the Heisman ceremonies in New York. The others are Ohio State quarterback Justin Fields and Ohio State defensive end Chase Young.
Burrow is also on the verge of breaking the NCAA record for completion percentage, which is .767 by Texas' Colt McCoy in 2008. Burrow is at .779 with a possible two games to play.
Opinion: LSU played and looked like champions
"Joe has a lot of great stats, but the accuracy is just shocking," said Sports Illustrated writer Ross Dellenger, formerly of the Baton Rouge Advocate.
It is also a bit shocking how far Burrow has come. He was a 200-1 pick to win the Heisman before the season.
"I didn't expect it," Dellenger said. "I don't know who would have. It's been incredible."
Scott Rabalais, the state representative for Heisman voting and a Baton Rouge Advocate columnist, said it all started for Burrow in the Texas game on third-and-17 from the LSU 39-yard line with 2:38 to play in the game and the Tigers clinging to a 37-31 lead. Texas had just scored with 3:59 left to draw within six.
Burrow then found Jefferson for the 61-yard touchdown for a 45-31 lead to put the game away.
"I thought that was his first Heisman moment," Rabalais said. "That was the kind of play that sparked the imagination of the voters. And he just kept on playing great. Before the Texas game, not a lot of people knew about him. He reminded me of Roy Hobbs in 'The Natural.' It was like, 'Who is this guy? Where did he come from?'"
Lately, he's everywhere.
And Burrow could win by one of the largest margins in history.
USC tailback O.J. Simpson won by the largest margin ever in 1968 when he received 2,853 total points - based on first-through-third votes - to 1,103 points for Purdue back/safety Leroy Keyes of Purdue - a margin of 1,750 points.
The rest of the top five most lopsided wins were:
- Ohio State quarterback Troy Smith in 2006 with 2,540 points to 878 for Arkansas tailback Darren McFadden (1,662-point margin).
- Florida State quarterback Charlie Ward in 1993 with 2,310 points to 688 for Tennessee quarterback Heath Shuler (1,622-point margin).
- Michigan wide receiver/returner Desmond Howard in 1991 with 2,077 points to 503 for Florida State quarterback Casey Weldon (1,574-point margin).
- Texas tailback Ricky Williams in 1998 with 2,355 points to 792 for Kansas State quarterback Michael Bishop (1,563-point margin).