Analysis: How Mississippi State baseball can make program history as SEC play winds down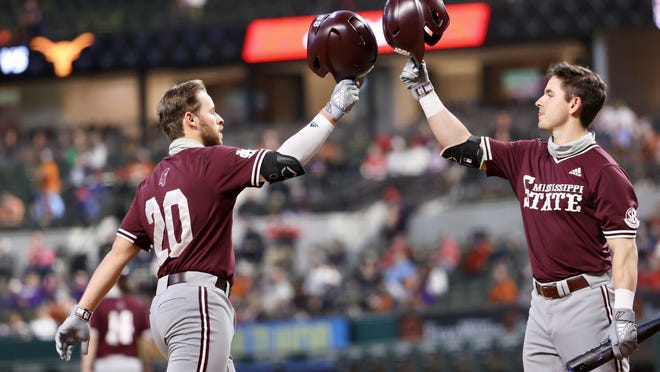 STARKVILLE – History is on the line for Mississippi State baseball. 
The No. 3 Bulldogs (35-11, 16-8 SEC) have two SEC series remaining, the first of which starts Thursday at home against Missouri (12-32, 5-19) at 7:30 p.m. (ESPNU). Then MSU is on the road in the final week of the regular season at Alabama (28-17, 11-12). 
If Mississippi State sweeps both opponents, which is well within the conversation, then it will finish with the most regular season SEC victories in program history. No MSU baseball team has ever finished with more than 21. 
Mississippi State already has three SEC sweeps and was two outs away from a fourth this past Sunday at South Carolina.
NEARLY FLAWLESS:How Mississippi State baseball was within two outs of its most complete series of season
MSU coach Chris Lemonis probably isn't worried about about the record. It's possible he's not even aware of it. Like most coaches, he takes a one game at a time approach.
But that doesn't mean it's not worth keeping an eye on. 
Mississippi State has played at least 28 SEC games in every year since 2001 (except 2020 because of the COVID-19 shutdown). The Bulldogs have played 30 every year since 2010. They've only reached 20 SEC wins twice in those spans, with a program-record 21 in 2016 and 20 in 2019. 
In fact, Mississippi State has only recorded 20 or more SEC wins three times. The first of the three occurred in 1989.
Missouri has been swept in SEC play four times. The Tigers are coming off losing three in a row to Tennessee. Alabama has only been swept twice, and the second sweep was a two-game set versus Vanderbilt. 
IN THEIR BLOOD:Mississippi State's Will Bednar has major supporter in brother David, a Pirates pitcher
Nobody would be shocked if Mississippi State wins all three against Missouri, owner of the worst record in the conference.
Then it's on to Tuscaloosa, where it might not be just the record that's within reach. Mississippi State could be vying for its 12th regular season SEC championship and just the program's second since 1990. 
Mississippi State enters the Missouri series one game back of Arkansas and Tennessee, who play each other this week. MSU sweeping Missouri and no sweep in the Arkansas-Tennessee series would tie the Bulldogs with the winner . 
At the end of the day it all comes down to positioning for the NCAA Tournament and making it to the College World Series. That's any team's ultimate goal. But before then, the Bulldogs have chances to secure special milestones along the way. 
Contact Tyler Horka at thorka@gannett.com. Follow @tbhorka on Twitter. To read more of Tyler's work, subscribe to the Clarion Ledger today!