How we graded Mississippi State football for surviving Louisiana Tech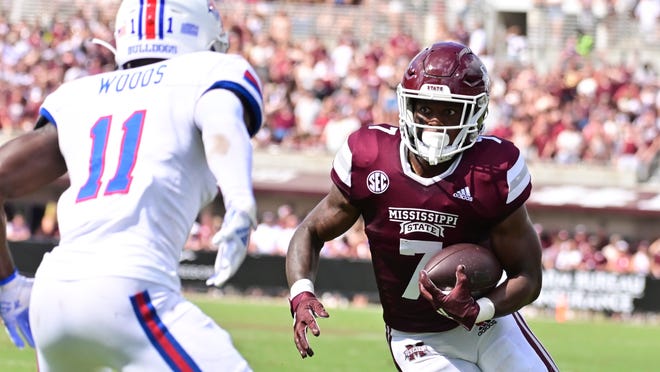 There was a time early in the fourth quarter when Mississippi State football looked lost, its offense scuffling to the extreme, its deficit to Louisiana Tech mounting rapidly.
But with a furious comeback in the fourth quarter — including three straight touchdown drives and several key defensive stops — Mississippi State managed to avoid an upset in the season opener, thanks to a 21-point swing that sealed a 35-34 victory.
Here's how we graded MSU after the win: 
WILL ROGERS:How the Mississippi State quarterback prepared to lead Mike Leach's offense
UP-AND-COMERS:Here are three receivers you need to know for Mississippi State football
Offense: C
For a time, the offense looked anemic. The Bulldogs turned the ball over four times, including an especially costly pick-six from quarterback Will Rogers. But then just as fast, Rogers and Co. figured out the offense, with Jo'quavious Marks punching in two scores and Jaden Walley catching another from Rogers as part of a 21-point swing in about 10 minutes.
Defense: B-
The defense struggled with big plays again but was solid overall. MSU held Louisiana Tech in critical moments and forced two first-half turnovers that helped build a short-lived 14-point edge. But in the biggest moment of all, a fourth-and-11 with about one minute left on the clock, Louisiana Tech converted, allowing the winning field goal attempt to be possible. Jacob Barnes missed the 46-yard attempt.
Special Teams: A-
Brandon Ruiz missed a 52-yarder early in the game, but the unit was great otherwise. Lideatrick Griffin gave Mississippi State a spark. His 70-yard return jumpstarted the offense in the fourth quarter, and Ruiz hit the extra point that gave the Bulldogs a one-point lead late.
Coaching: B-
The offense seemed at a loss for large chunks of the second and third quarters, but MSU coach Mike Leach managed to get the train back on the tracks to complete the comeback.
Overall: B
Midway through the game, Mississippi State looked as if it was headed for a season-opening upset. Instead, the Bulldogs can take heart in their ability to rally from the brink. Rogers looked solid, even with an interception. And while there were three other turnovers, the defense played well to hold Louisiana Tech in check.