How Mississippi State football's Makai Polk became SEC's reception leader after transfer from Cal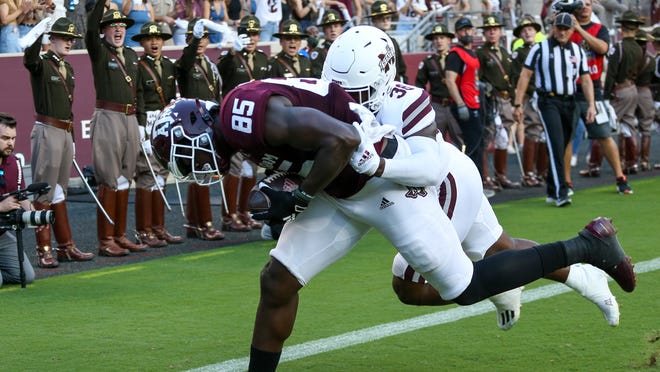 STARKVILLE — Makai Polk didn't know what entering the transfer portal would bring. He had spent two seasons at Cal, and the wide receiver wanted something different — something more.
So he called his parents, asking for their advice.
"What would Aunti Di say?" Polk's mother, Kahli, reminded him. "And he was like, 'I know.' "
Aunti Di would've reminded Polk to take a leap of faith. She would've told him that this is what he's always wanted — to play football in a big-time conference, proving himself as a star player. She would've reinforced to Polk that she always believed in him.
She couldn't tell Polk that, though. Not anymore.
Diane Davis, Polk's great aunt, died Jan. 7, 2017, after a battle with ovarian cancer. The loss deeply impacted him.Wanting to be closer to where Davis lived is why he returned  to El Cerrito High School in California after two years at Susan Miller Dorsey Senior High in Los Angeles.
OPEN WEEK FOCUS:Mississippi State football should look long and hard at special teams
WILL TO WIN:Will Rogers played his best game yet for Mississippi State football. It needed to happen.
Polk still plays with Davis in mind. He has the date of her death tattooed on his arm as a constant reminder. And when he faced the decision of whether to enter the transfer portal or remain at Cal, the message Davis gave Polk after her cancer diagnosis drove him forward.
"She wanted him to be strong and continue on no matter if she was going to present or not," Kahli Polk said. "I think he knew that she would not make it. But he held onto her words."
Those words led Polk to the transfer portal and to Mississippi State (3-2, 1-1 SEC), where he has become a favorite target of quarterback Will Rogers. The 6-foot-4, 200-pound Polk leads the SEC with 46 receptions, and his 430 receiving yards are the third most in the conference.
In two seasons at Cal, Polk had 36 catches for 478 yards, although the Golden Bears just played four games last season.
The breakout doesn't come as a surprise to anyone who watched Polk growing up, since he began playing football at 5.
"His youth program and coaches, they've seen it when he was young. They knew he had that potential. And then me having that opportunity his senior year when he came back, I see he had it," said Jacob Rincon, the football coach and athletic director at El Cerrito. "He's really just now on television showcasing what he's always been able to do."
'A second mother'
Davis, a flight attendant for United Airlines since the 1970s, had a custom. Wherever she'd travel — across the country or abroad — she'd bring a movie home, make popcorn and sit down with Polk to watch.
They did just about everything together. Kahli described Davis as "a second mother" to them both, watching Makai if she and her husband Mark ever needed to leave town or during her graduate school classes at San Jose State. Davis taught Polk how to cook and bake, attended all his track meets and football games, and instructed him to believe in himself — even when others didn't.
"She was extremely close to him," Kahli said. "Her vote of confidence and her words of encouragement, really from when he was a little kid, I think gave him all the courage and motivation in the world."
Polk would need it throughout his football career, when he was passed up for starting roles or overlooked in recruiting for players his mother described as having "a bigger name."
Polk wanted to play receiver, but most colleges recruited him as a defender — he primarily played safety as a sophomore and junior at Dorsey. Tennessee extended Polk an offer, but a coaching change warded Polk off. Washington State, which at the time had Mike Leach as coach, talked with Polk, but didn't offer him a scholarship.
So he chose Cal, following receivers coach Nick Edwards. But Edwards became the running backs coach soon after Polk arrived, the first issue that eventually led him to the transfer portal.
And while Leach's staff missed out on Polk the first time, coaches seized their second chance after a year at Mississippi State.
'This is him'
After Mississippi State knocked off then-No. 13 Texas A&M last week, outside wide receivers coach Steve Spurrier Jr. approached Polk's family. About 15 of Polk's family members had made the trip to College Station, including his mom, dad and little brother, Israel.
"I don't say this often," Spurrier told Kahli. "Your son is very special."
Polk's mother already knew that. But his career-high 13 catches for 126 yards and two touchdowns against the Aggies displayed his talent for the whole conference to see.
"Makai Polk's pretty good, you know," Rogers said postgame, a grin on his face.
The first day Polk's name entered the transfer portal, Spurrier reached out. Over the course of one weekend, he and Polk talked about 20 times. He remembered what Polk did against Washington State in 2019, reeling in three catches for 71 yards and a touchdown, and wanted that sort of player in Starkville.
Spurrier saw an experienced receiver who'd be a leader in the wideout room, stepping in and immediately becoming a top target for Rogers. And Polk saw an opportunity to take the next step in his career, producing the kind of performances he knows he's capable of against some of college football's top teams.
"Just being in the SEC," Polk said. "And the Air Raid offense is a receiver's dream."
It's a dream Polk long envisioned. And it's one he's now realized with the help of Davis — whose advice prodded him to make a leap into the unknown, trusting rather than knowing that he'd land on his feet running.
"I'm just happy for him that he's having this opportunity," Kahli said. "Am I amazed? No. Because this is who he's always been. I'm not wowed by it, because I know this is him."