No Vic Beasley, no Johnathan Joseph, no Beau Brinkley: What recent cuts mean for Titans
Back-to-back losses highlighted the flaws of this Titans team.
Their response? Cut the dead weight.
So outside linebacker Vic Beasley is gone. So are cornerback Johnathan Joseph and long snapper Beau Brinkley. By the start of this week, Titans general manager Jon Robinson had seen enough from all three, opting to release them ahead of the Week 9 game against the Chicago Bears (5-3) on Sunday (noon, CBS) at Nissan Stadium.
Ultimately, it boiled down to something Robinson said Wednesday: "We don't make moves to send messages. We make moves to try to help us win football games."
Here's a look at what each move means for the Titans (5-2):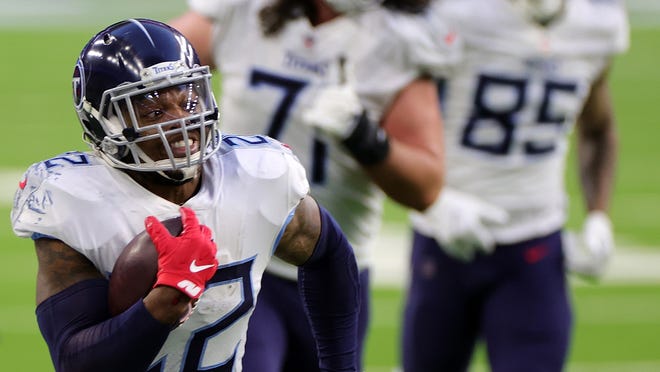 Beasley's release: More on Landry, Clowney's shoulders
Beasley was dead weight in the truest sense. He was late to training camp, he spent the first two weeks of the season on the non-football injury list, and he was a complete nonfactor when he finally stepped on the field.
He had just three tackles and no sacks in five games.
Losing him is addition by subtraction.
More:Titans GM Jon Robinson on release of Vic Beasley: 'The blame falls on me'
During the offseason, Titans outside linebackers coach Shane Bowen said his goal was to find ways to get more OLBs involved to lessen the workload on third-year linebacker Harold Landry, whose production dipped toward the end of last season.
Bowen hasn't been able to do so this season. In fact, more has been put on the plate of Landry than ever before. And with Beasley now out of the picture, that will only continue to be the case.
Landry has played 94% of the team's defensive snaps this season, up from 86% last year. More, too, now rests on Jadeveon Clowney, who was signed by the Titans just six days before the opener. Clowney has been on the field for 75% of the defense's snaps.
Clowney, largely considered the top prize in free agency this past offseason, is on a one-year, $13 million deal with the Titans. He has 15 tackles, including three for a loss, and six quarterback hits — but no sacks.
"I think that (Clowney has) given us some really good snaps," Robinson said when asked about his evaluation of Clowney, and if more pressure is on him now that the outside linebacker position is thinner. "He's made some disruptive plays in every game that he's been in. We can we move him around. Coach (Mike) Vrabel does a good job of trying to put him in position to be successful and get back there. ... He's working to get back to making those plays and getting those, either a turnover or a sack or whatever it may be."
 After Landry and Clowney, the only other outside linebacker on the active roster is Derick Roberson, who is poised for an increased role now. Wyatt Ray and recently signed Tuzar Skipper are available on the practice squad and are likely call-ups sometime soon.
"The depth will come from probably the practice squad," Robinson said. "We'll work through practice this week and see how that goes at the end of the week."
Joseph's release: Emphasizing youth, speed
Joseph was playing more than initially expected due to a rash of injuries that hit the secondary. He was regularly picked on by opposing quarterbacks who identified him as a weak link.
In his age-36 season, he had become a liability.
"At the end of the day, wanted to take a look at some younger guys and move forward there," Robinson said of releasing Joseph. "That's in the end what led to that decision."
One of those younger guys is Kristian Fulton, the team's second-round pick who is on injured reserve with a knee injury and isn't eligible to be removed for at least two more games.
But the Titans appear poised to get some cornerback help for the Bears game. Adoree' Jackson, the team's top corner, hasn't played this season but could be activated to make his debut Sunday. And Desmond King, acquired earlier this week in a trade with the Chargers, also has a chance to suit up Sunday if he passes through COVID-19 protocols and gets up to speed smoothly.
Robinson called King "an aggressive guy, good tackler, good blitzer" who is "instinctive in coverage, good feel for route combos, for finding the spots and zones where he needs to fit and being productive there."
With King and Jackson in place alongside Malcolm Butler and Fulton, Joseph would be nothing more than a depth piece. In that regard, it's clear Robinson would rather get reps for a rookie like Chris Jackson, a seventh-round pick, than Joseph, who has lost a couple of steps since his heyday.
Brinkley's release: A sign of win now
Of the recent roster moves made by Robinson, Brinkley's was the most surprising.
Robinson said it himself: Brinkley had been the consummate pro while operating as the team's primary long snapper since 2012. But this is a team in win-now mode, and botched snaps like the two he's had over the previous two weeks are hurting the Titans.
"Something was just a little off with the accuracy and the consistency there," Robinson said.
Having a reliable backup option helped accommodate the move.
The Titans will turn to Matt Overton, who was recently signed to the practice squad. The long snapper for the Colts from 2012-16 and for the Jaguars (2017-18) and Chargers (2019), Overton was a Pro Bowler in 2013.
Robinson said releasing players mid-season is about improving the team, not about sending any type of message. Still, in the locker room, the absence of fixtures like Brinkley is felt.
"It's tough, but that's about it," left guard Rodger Saffold said Wednesday. "Tough day. Tough business."
Reach Erik Bacharach at ebacharach@tennessean.com and on Twitter @ErikBacharach.