As Tennessee Titans' rebuild expands, Mike Vrabel and Jon Robinson better hope they get it right| Estes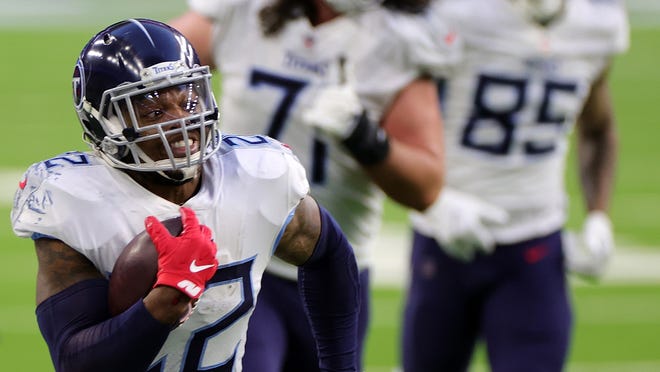 The Titans added another defensive player Tuesday, but the more surprising headline had to do with the two they dropped.
Cornerback Adoree' Jackson and right tackle Dennis Kelly are gone? Man. Didn't see either of those coming.
Seemed like Jackson would be safe when Malcolm Butler was let go. And Kelly? Really? He was so clutch last season. He bailed the Titans out of the Isaiah Wilson quagmire.
These moves saved money under a reduced salary cap. But given the timing, they felt like a sprint to an ATM machine. With the extra cash, the Titans did comfortably sign cornerback Janoris Jenkins. They'll add other free agents in the coming days who'll be needed to fill growing needs on both sides of the ball.
TAKING FROM COLTS: Newly added defensive lineman frustrated Titans for years 
BIG SIGNING:Bud Dupree once sacked Vols and Vandy in the SEC
COMMENTARY:Titans are fixing their defense – at the expense of their offense
The offense must replace a few important players. The defense, meanwhile, is hardly recognizable. That's understandable to some degree, given last season's defensive struggles. I've mostly been on board with what has been done until now.
But releasing Jackson and Kelly was where the overhaul started to turn from expected to "Oh no, what are you doing?" We'll see why the excess cap space was needed and where that money is spent. The deeper the cuts go, though, the more GM Jon Robinson and head coach Mike Vrabel will be putting themselves on the hook for overdoing it with a franchise that won 11 games and the AFC South last season.
What we're really talking about here is a debate about who deserves more blame for the Titans' shoddy defense last season: The coaching staff or the personnel?
For Vrabel, it goes back to his declining to hire a defensive coordinator last season to replace Dean Pees. That failed on the field, making his decision this offseason to promote de facto coordinator Shane Bowen into the title highly difficult to justify.
Vrabel's staff moves presumably sought continuity with Pees' complicated scheme. While a worthwhile goal, it didn't help last season. The entire defense regressed, as did many of its top veterans – players who knew the defense and had run it pretty well under Pees. Valuing continuity makes even less sense now that the Titans' defensive personnel is being overhauled.
Last season's Titans defense was so terrible that a reckoning was due for everyone - both coaches and players.
Never happened with the coaches, though. Despite Vrabel's stock comment about needing to coach better and play better, Bowen's promotion strongly suggested to everyone that Vrabel – and the organization – felt underperforming players, not the coaching, were the cause of the defense's shortcomings.
If that wasn't obvious to the Titans' players then, it surely is now as first-stringers are being jettisoned left and right. Three-fourths of the starting secondary has been cut. Everyone except safety Kevin Byard, who tweeted Tuesday the "Fresh Prince of Bel-Air" GIF of Will Smith standing forlornly in an empty living room after everyone had departed.
While attrition has been necessary across the NFL to satisfy the cost-cutting demands of a decreased salary cap, the Titans haven't yet announced restructured deals like other teams. But they are taking aim and blowing up their defense.
The personnel is being disassembled and rebuilt with preferred new additions, three of them already in the past two days.
And you start to wonder how it's playing among existing Titans players.
Former Titans linebacker Wesley Woodyard tweeted the following Tuesday: "Y'all be quick to blame the players for bad defense. Who was the defensive coordinator last year??"
When asked about the tweet Wednesday morning in a revealing interview on 104.5-FM in Nashville, Woodyard responded to Vrabel.
"As a player, who am I supposed to report to? I'm supposed to report to my defensive coordinator," Woodyard said. "Well, technically, there wasn't a defensive coordinator. So Mike was the defensive coordinator. There has to be some kind of accountability right there, too. ... You were brought in to have a great defensive scheme, and we haven't seen that so far. So we've got to hold you accountable too, Mike."
Woodyard didn't say this, but you also have to assume his opinion isn't his alone. When Woodyard was on the Titans in 2019, he was a well-respected leader in the locker room. His words still carry weight, and he raised a fair question. It's the same thing so many others have been saying. Woodyard just felt comfortable saying it publicly because he's no longer on the team.
Look, the last thing the Titans need is a rift developing between the players and the coaches and/or front office.
The Titans haven't had signs of that. They have consistently played their tails off for Vrabel. They were physical. They fought. They finished, and they were often rewarded for that late in games, too.
The buy-in Vrabel gets from his players has been his biggest strength as a head coach. The cohesiveness of the team has been one of the Titans' biggest strengths. They've been greater than the sum of their parts. 
"I'm very nervous," Woodyard told 104.5, "because who's gonna help KB lead the charge in that locker room? Yeah, Big Jeff (Simmons) can help him, but it's just so much you've got to have in order to be successful on defense. And right now, they are lacking those key pieces, man. You don't build a championship-winning defense overnight."
Year-to-year success in the NFL is balanced so delicately, and the Titans are in a vulnerable place right now.
You don't often see a roster rebuild after an 11-5 season. Major surgery isn't needed unless a patient is sick. As such, Robinson and Vrabel are inviting additional pressure on themselves to get it right.
This had better work. If it doesn't, the blame won't fall to the players again. It'll be on them.
Reach Gentry Estes at gestes@tennessean.com and on Twitter @Gentry_Estes.