Grading the Tennessee Titans' 2021 free-agent additions so far | Estes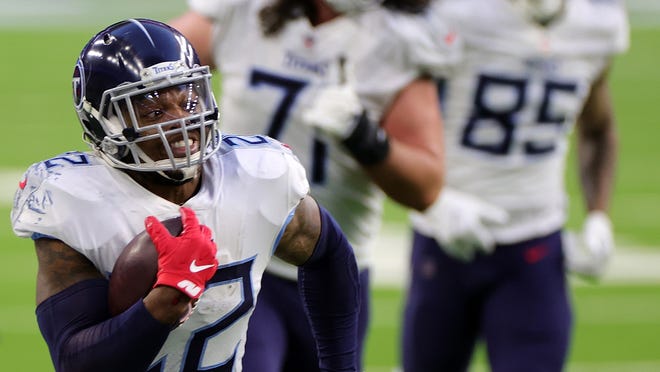 Grading the 2021 free-agent additions to date for the Tennessee Titans:
Denico Autry (DL, Indianapolis Colts)
This didn't receive enough acclaim at the time, but the Titans did very well in landing Autry. He's a respected, underrated player who has been a recurring thorn in the side of the Titans' offense. Many around the Colts raved about Autry, 30, and bemoaned his departure once it happened. It's worth noting, too, that the Colts made a bid to keep Autry but lost out to the Titans' offer.
Autry figures to be a good scheme fit. He's versatile in terms of positioning, and above all, he can provide an interior pass rush that has been missing for the Titans.
Combine that with a reasonable price tag and the fact you're taking a valuable player from your top divisional rival, and this deal was a winner for the Titans.
Grade: A
Janoris Jenkins (CB, New Orleans Saints)
The same thing that happened to Malcolm Butler with the Titans is what happened to Jenkins with the Saints – veteran cornerbacks, still playing well, released in purely a cost-saving move. With a reduced salary cap in 2021, this sort of thing has been widespread throughout the NFL lately. In this instance, the Titans benefited by snagging a man-coverage specialist of a cornerback in Jenkins, who'll fit in nicely and probably wouldn't have been available otherwise.
Probably not a coincidence, either, that news of Jenkins' deal was tweeted out by his agent not long after the Titans released another expensive cornerback in Adoree' Jackson. At 32, Jenkins is a good bit older than Jackson, but he might be a better player, too.
Having lost Butler and Jackson, the Titans couldn't let free agency pass without landing at least one cornerback that they know for sure can start. And Jenkins can do that.
Grade: B+
LOOKING TO DRAFT:How free-agent haul might change Titans' draft strategy
GENTRY ESTES:Why pressure is increasing on Vrabel and Robinson 
FORMER PLAYER:Woodyard points to Vrabel for defensive woes, too
Josh Reynolds (WR, LA Rams)
There's a lot to like with this addition. Reynolds' stock is on the rise. His production increased during four years with the Rams, leading to last season's career-highs in catches (52) and receiving yards (618). He makes a good fit for the Titans because of his versatility. While he's not necessarily a true WR2 to replace Corey Davis, he could fill that role if needed. He could also line up at other spots.
The Titans did a nice job waiting out the market here, too. The fact that they reportedly beat out the Kansas City Chiefs' high-powered offense suggests that Reynolds might have been seeking a place to have a more prominent role, which is an encouraging sign. He was often overshadowed by other receivers in LA, but Reynolds was a valuable member of the Rams' offense who was due a greater opportunity elsewhere.
Grade: B+
Bud Dupree (OLB, Pittsburgh Steelers)
Chasing sacks in free agency is a costly proposition, and the Titans had to pay up to land Dupree and check the box atop their offseason needs list. Dupree's five-year deal was reportedly worth $16.5 million annually, making him instantly one of the best-paid players on the team. That's a huge purchase in any year, but it was especially expensive in the league's current thrifty climate. The Titans basically had to spend it, though. Their pass-rushing need was too urgent, and this deal carried a hint of desperation.
Dupree, 28, does make the Titans better. He is a quality player in his prime years and by all accounts a quality person who offers something the Titans have missed at a premium position. That said, it took a small fortune at a time when the Titans couldn't really afford it and have had to carve up last year's roster to create cap space.
Considering the exorbitant cost, Titans have reasons to be nervous about a deal that carried a hint of desperation. Dupree is recovering from an ACL tear that ended his 2020 season. He was performing at a high level when on the field, but his success with the Steelers came alongside other talented defensive players, most notably T.J. Watt. Dupree won't have the same talent around him in Tennessee. He'll be the guy having to deal with the brunt of the attention from opposing offenses.
Dupree will help the Titans. The question is if it'll be enough to justify his salary.
Grade: C+
Kendall Lamm (OT, Cleveland Browns)
Lamm has been solid enough to hang around the NFL for six seasons, playing with the Houston Texans (note the Mike Vrabel tie) and the Browns. Lamm started 13 games as the Texans' right tackle in 2018. Otherwise, he's mostly been a backup. At first, that's what you would have expected he was signed to be for the Titans, too.
And then Dennis Kelly was released. Cutting Kelly saved considerable cap space, but it was a highly questionable decision considering all he has meant to the Titans and their offensive line. It's a bit unfair to compare Lamm's signing to that track record, but that's how it is. The impression is – actual or not – that he was added to replace Kelly. And that's a much different standard than if he'd been signed to add depth.
Grade: C-
Kevin Johnson, (CB, Cleveland Browns)
Johnson, 28, was the 16th overall pick in the 2015 NFL Draft out of Wake Forest, and he largely hasn't lived up to those expectations in a six-year career. He has started an average of only three games a season since his rookie year with the Texans. Meanwhile, the Titans will be Johnson's fourth team and third in the past three years.
Such a track record doesn't inspire much confidence. Vrabel evidently saw something he liked when their paths collided in Houston, but at best, this should only be a signing to boost depth in the secondary. If Johnson is needed to fill a prominent role, that wouldn't bode well.
Grade: D+
Morgan Cox (LS, Baltimore Ravens)
ESPN's Ravens reporter Jamison Hensley reported Wednesday morning that Cox, a Collierville native and a University of Tennessee guy, was headed back to play for the Titans. Cox was the Ravens' long snapper for 11 seasons, working with perhaps the best kicker in the NFL in Justin Tucker. The Titans cut ties with Beau Brinkley last season at a position that never gets attention unless it's bad. 
If nothing else Pat McAfee is a fan:
Grade: Sure, why not?
Reach Gentry Estes at gestes@tennessean.com and on Twitter @Gentry_Estes.