Titans have the No. 22 pick in the 2021 NFL Draft. Should they keep it?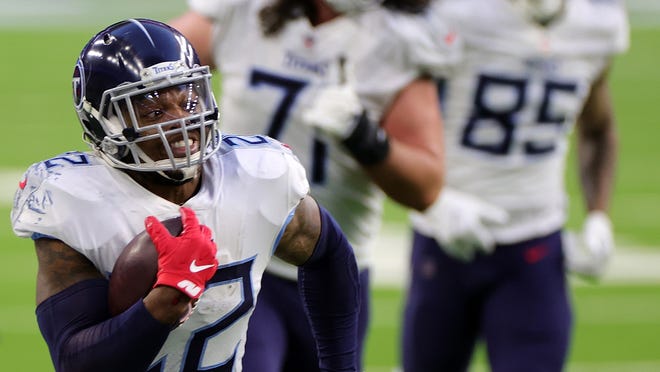 What should the Tennessee Titans do with their top pick in the 2021 NFL Draft? Just stay put? Move up? Maybe move down?
Exploring the Titans' options with the 22nd overall selection: 
The case for staying put at No. 22 
Tennessee already might be in the perfect spot for any of the needs it wants to address first — wide receiver, cornerback and (maybe) edge rusher should be at the top of the list — no matter what happens in the front half of the first round. 
The Titans were dragged down by their defense, and cornerback figures to be the most pressing area to address on the unit, with pass-rushing reinforcements less dire after the signings of outside linebacker Bud Dupree and defensive lineman Denico Autry in free agency. Tennessee has at least one of its starting cornerback jobs up for grabs and would need to fill both in a worst-case scenario, depending on how well the Janoris Jenkins signing pans out. 
Cornerbacks Pat Surtain II (Alabama) and Jaycee Horn (South Carolina)  are expected to be off the board by No. 22, but Greg Newsome II (Northwestern) and Caleb Farley (Virginia Tech) could still be available. Maybe. 
Particularly Farley, a first-round talent that teams might be scared of because of a back procedure he had in March. Reports suggest it was minor — Farley's agent said he should be cleared for full activities before training camp — but it is not uncommon for health uncertainty to cause a top prospect to tumble. With Farley, that could play in the Titans' favor.
NFL DRAFT:Five Zoom calls could keep Tennessee Titans from drafting another Isaiah Wilson
No. 22 also puts Tennessee in a good spot to get one of the top edge players in what many draft pundits call a weaker pass-rushing class, or to snag a wide receiver. After the tier 1 receivers of the 2021 class — Ja'Marr Chase, Jaylen Waddle and DeVonta Smith — there's plenty of late first-round and early second-round talent at the position. 
The Titans kept their original first-round pick the last two seasons. Doing so went in completely different directions. Isaiah Wilson (No. 20) was a bust last year, but 2019 top pick Jeffery Simmons (No. 19) has Pro-Bowl potential. 
The case for trading back from No. 22
Talent-wise, there might not be much of a difference selecting a receiver in the early 20s versus snagging one in the 40s or maybe even the 50s. NFL Draft analyst Dane Brugler of The Athletic, for example, has nine wide receivers who have grades between "first/second round" and "second round." Wide receiver needy teams like the Titans could take advantage of that depth — trade back and acquire additional draft picks in the process. 
For Tennessee, trading back could mean just sliding later into round one for a versatile pass catcher like Minnesota's Rashod Bateman, who's made his case in the pre-draft process as a first-round pick, or into the second round for a slot guy like Ole Miss' Elijah Moore, receiver A.J. Brown's college teammate. 
ESTES:Tennessee Titans' Mike Vrabel isn't explaining Shane Bowen's promotion to you
The case for trading up from No. 22
Every year, teams trade up for prospects they fall in love with and ones they thought they wouldn't have a chance at, but the player slips back (for whatever reason) and is sought after. That would be the Titans' reasoning for doing so this year. 
Maybe trading into the top 12 won't make sense for Tennessee to take one of the top three receivers when there's plenty of late first/second-round talent at the position. But it could be worthwhile to sneak into the teens to take one of the top cornerbacks before they're off the board, or one of the elite edge rushers in a class that doesn't have many.
MORE DRAFT COVERAGE:Why Isaiah Wilson shouldn't scare Tennessee Titans off Georgia's Azeez Ojulari | Estes
And trading up in the first round has worked out well for the Titans during general manager Jon Robinson's tenure starting in 2016. Using the No. 15 overall pick it received in dealing the No. 1 overall pick to the Rams in the 2016 draft, Tennessee traded up to No. 8 to take star right tackle Jack Conklin (now with the Browns), a two-time first-team All-Pro selection. 
In 2018, the Titans traded up from No. 25 to No. 22 to take inside linebacker Rashaan Evans, who has started in 39 of 47 games.  
Ben Arthur covers the Tennessee Titans for The USA TODAY Network. Contact him at barthur@gannett.com and follow him on Twitter at @benyarthur.